Life term for man who murdered wife in Manchester park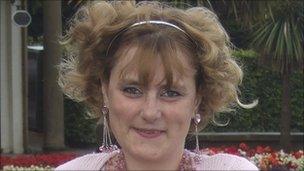 A man who stabbed his estranged wife to death in a Manchester park has been jailed for life.
Brian Oliver, 40, stabbed Joanne Oliver 15 times in a "brutal act of violence" in Heaton Park last September, prosecutors said.
He had denied murder but changed his plea part way through his trial at Manchester Crown Court.
Oliver, of Radcliffe in Greater Manchester, was ordered to serve a minimum term of 19 years.
He left his 32-year-old wife in a pool of blood and tried to slash his throat and wrists before confessing to workmen.
'Possessive and controlling'
Jurors had previously heard that the couple had been married for 10 years, living together in Duke Street, Radcliffe.
Their relationship was described as "volatile", with Oliver being "possessive and controlling".
The court was also told Oliver would "drink excessively" and was sometimes violent to Mrs Oliver.
They were in the process of breaking up and had been living apart, prosecutor Graham Wood QC said.
They met at Heaton Park, in Prestwich, on the morning of 24 September.
Oliver had sent his wife numerous texts beforehand, believing she was seeing another man. She told him there was no-one.
A dog walker saw Oliver standing over something holding a "very large knife in his hand".
The woman realised it was a person as she could see two hands reaching up from the ground. She heard a "moaning scream" coming from the body and ran for help.
Police said they arrived and were searching the area when Oliver emerged from woodland and told nearby workmen: "My wife has cheated on me with another bloke and I have cut her throat."
He then said he was going to hand himself in.
He told police that he took the knife to kill himself and that when his wife tried to stop him they fell down some wooden steps, at which point he lost "all self-control" and lashed out at her.
Mr Justice King, sentencing, described Oliver's attack on his wife as "wholly unjustified and wicked".
He said Mrs Oliver was clearly trying to flee the attack, but her husband had continued to stab her. She had wounds to her lungs and heart.
"No words of mine can properly express the grief you have caused her family," he said.
Speaking after the sentence, senior investigating officer Andy Tattersall said: "This was a truly tragic end to what had been a fractious relationship.
"We might never know exactly what caused Oliver to stab his wife that day. She was struck down in the prime of her life.
"Oliver now has to live with the knowledge that his violent actions have ended the life of an innocent woman."
Related Internet Links
The BBC is not responsible for the content of external sites.