Apprentice star backs head stripped of honour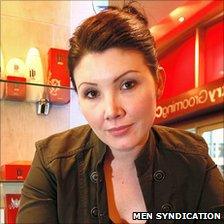 Apprentice contestant Adele Lock has criticised a decision to strip disgraced superhead Jean Else of her Damehood.
The 35-year-old salon chain owner from Cheshire was a former pupil of the sacked Whalley Range High School head and says she turned her life around.
The Queen has removed Ms Else's honour after she was banned from running a school by the General Teaching Council.
Ms Else faced allegations of financial mismanagement and nepotism.
She promoted her twin sister, who had been a clerical assistant at Whalley Range High School, to an assistant head's post on a £58,000 salary.
Ms Lock, who appeared in the first series of The Apprentice, said that on her application to the BBC One programme she wrote that Ms Else was the person who had inspired her the most in her life.
"I'd have been a down-and-out if it hadn't been for Jean Else," said Ms Lock who was a pupil at Stretford High School, when Ms Else was a deputy head there.
"I was about to be expelled and she made me believe I could do whatever I wanted and that I did have ability that I shouldn't waste."
A year after their conversation Ms Lock had become a prefect and went on to get seven GCSEs and an A-level.
"I do acknowledge what she did was wrong, but sometimes people need to be unconventional and think outside the box to make things work.
"Nobody can deny that she made a great success of her schools," said Ms Lock from Knutsford.
Related Internet Links
The BBC is not responsible for the content of external sites.