Manchester gallery braced for 'largest ever artwork'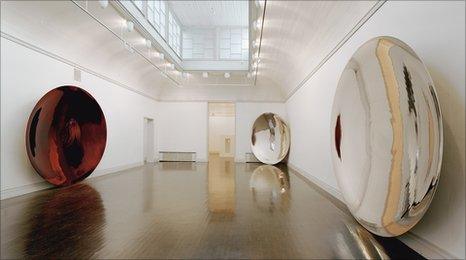 Manchester Art Gallery has had to strengthen its walls for a 2-tonne artwork, the 'largest' it has ever shown.
Her Blood (1998) is a major sculptural piece by Turner Prize-winning artist, Anish Kapoor.
Structural engineers have been brought in to secure the artwork which has a total weight of 2,100 kg (2.3 tons).
It is being shown for the first time in the UK as part of a touring exhibition which opens on 5 March.
Curator of Exhibitions, Natasha Howes said the gallery was delighted to be hosting the exhibition, Anish Kapoor:Flashback.
But Ms Howes admitted that one of the pieces had presented them with quite a challenge.
"Her Blood is the largest artwork we have ever had at Manchester Art Gallery," she said.
"It's made up three enormous metal bowls which are each 3.5m (11.5 ft) in diameter and very few galleries are big enough."
"Fortunately, we have really good access and a very large lift," said Ms Howes.
Kapoor is one of the UK's leading artists and the exhibition is the first of his work to be held outside London in over a decade.
The engineer-turned-artist is known for his mirrored works and the highly-polished bowls are among his largest creations.
The bowls will stand on the floor of the main gallery but engineers have had to strengthen the walls with steel braces to ensure they are strong enough to secure the artwork.
The exhibition will include Kapoor's earlier works alongside recent pieces lent directly by the artist and will make him the third Turner Prize-winner to exhibit at Manchester Art Gallery in 2011.
On 1 February, a year-long exhibition opened by renowned artist Grayson Perry whilst a life-sized male figure by Angel of the North creator Antony Gormley is suspended in the atrium.
"It shows that we want to work with bigger and better artists," added Ms Howes.
"This one has certainly been a challenge, but one that we relish."
Anish Kapoor: Flashback opens at Manchester Art Gallery (5 March - 5 June 2011) before going on a national tour.
Related Internet Links
The BBC is not responsible for the content of external sites.