A guide inside Manchester's new music: Money
By Joe Sparrow
Music blogger, A New Band A Day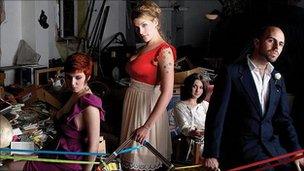 In a series of articles littered with painful truths, here is one that may hurt the most: there is very little money in music.
Think about it like this; to earn the minimum wage of £5.93 per hour, a solo artist needs to sell 83 CDs at £10 each per month.
If there are two of you, then you'll need to sell twice as many.
If there are five of you, then it's time to lose the rhythm guitarist.
One label bigwig once told me that a decade ago, even the smallest band earned 75 percent of its income from music sales.
Today, he said, "even U2 make very little from CDs".
Even allowing for estimations, this notion is both shocking and overlooked by many.
But so is the fact that there is still money coming in, just from other sources, such as gigs, merchandise and corporate tie-ins.
So what should realistic expectations be?
If you are in need of an injection of encouragement, Jeff Thompson is your man.
Jeff runs both the record label, Fat Northerner, and the international-touring grassroots music conference, Un-Convention.
Having rummaged around the pockets of the music industry for a while, he knows a thing or two about money.
But that doesn't mean he has simple answers, as even a straightforward question like 'how do bands make money?' triggers a tangential response.
"I play football because I love it, but I never expect anyone to pay me for the privilege.
"If I asked one of the old guys watching me on a Sunday for £3, he'd look at me like I was mad.
"But bands assume that because they've got together and written a song, it automatically has an inherent worth."
"The reality is that the quality of the song the bands write is where every penny will come from, but someone has to want to hear what you are doing for you to make money."
So a new band needs to look at the audience that will pay them and make sure they are in the centre of that niche's perception?
"The beauty of being in a band that's starting out is that you can make personal connections.
"If you can find 500 fans prepared to part with £20 a year for whatever it is you're producing - shirts, stickers, gigs - then that's £10,000 a year.
"That's a genuine business model and you've earned more than if you'd signed a recording contract."
Therefore, it is more important than ever for there to be something unique that fans want to buy - and now no-one buys music itself, bands need to be more inventive.
"It feels like it used to be simpler [in the past], but now you can be more creative.
"There was a great example at one Un-Convention - a band invited all their fans to join them in the studio, recorded the album with them, got them to sign the wall, took a photo to use as the artwork, and charged them to be there.
"They then used that money to make the album and sold it back to the same set of fans.
"Those kind of creative ideas don't only make you money, but also keep the fans engaged."
And then there are new technologies, which Jeff said have opened up new money streams - or at least legitimised them.
In the past, licensing a song was the last thing a band wanted to do.
If you allowed your music to appear on an advert, you'd be ostracised, but now hot bands' songs soundtrack adverts and games.
"Putting your song onto Guitar Hero is no different to any other way of making money - most bands would jump at the chance.
"They recognise that they're competing with many more distractions today.
"That said, for the same reason as before, advertising money is spread thinly now, and the pay out isn't as big as it was."
So if bands pursue several avenues of income, find the right fans, and sell them what they want, money is there to be made.
Jeff's message is clear - making music alone isn't enough any more.
Your dream can still come true, but getting there might involve making a few more T-shirts than you originally envisioned.
Related Internet Links
The BBC is not responsible for the content of external sites.