Ajax remembers Bury football hero Jack Reynolds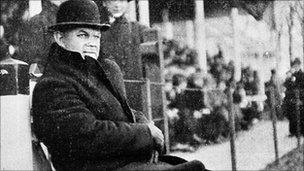 The achievements of a little-known footballer from Bury are still remembered almost a century after he led a Dutch football giant to its first trophy. BBC News looks back on the career of Ajax legend Jack Reynolds.
Born in Whitefield, Jack Reynolds achieved little in his playing career.
After retiring in 1911, he took charge of the then small side Ajax Amsterdam.
Reynolds transformed the club, putting in place methods that led eventually to a style of play known as 'total football'.
His achievements at management level could not be more in contrast with his playing days.
Playing for nine years, he started at Manchester City, where he did not play a game, before moving to Burton United, Grimsby Town, Sheffield Wednesday, Watford and finally Rochdale.
Why he went to manage in Europe after hanging up his boots is not known but he soon joined Swiss club St Gallen.
Two years later he was offered the role of coach of the German national side, though no sooner had he accepted than the outbreak of World War I meant he had to give it up.
It was then that he moved to the Netherlands, where he took up the post at Ajax, a side which in its 15-year history had achieved only promotion to the Dutch First Division.
Ajax expert and author Menno Pot said that Jack Reynolds' arrival at the club changed it forever.
"He was all over the place and really reshaped the club into something professional, even though the players weren't paid at the time.
"Football was an amateur game, but he introduced professional training methods, professional facilities that really allowed Ajax to make a huge leap forward."
'Play offensively with skill'
Mr Pot said that while the great manager's winning record was worthy of praise - winning the Dutch cup in 1917 and winning eight league titles - his masterstroke was the invention of a system that changed Ajax forever.
"He was the man who came up with the idea that every player at Ajax should play the same system and the same formation.
"He wanted them to play offensively with skill, rather than with physical power."
His methods laid the foundations for a pioneering style of play called 'total football' which was adopted by Rinus Michels, future Ajax manager and product of Mr Reynolds' youth system, in which all outfield players are able to play in any position.
Total football is credited with winning Ajax five league titles and a European Cup between 1969 and 1973, and revolutionising the whole of Dutch football, thanks to Michels' appointment as Netherlands' national team manager at the 1974 World Cup.
Mr Reynolds spent almost all of of his career with Ajax where he is considered one of the club's founding fathers.
He retired after winning his last title in 1947 and was honoured by the club after his death in 1962 with the renaming of a stand at the club's former ground, the De Meer Stadion.
The honour continued when Ajax moved to their present stadium, the Amsterdam Arena, which is home to a welcoming lounge named after him, the Jack Reynoldslobby.
Related Internet Links
The BBC is not responsible for the content of external sites.