Bridge built after Manchester bomb to close for repairs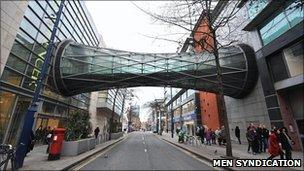 A pedestrian bridge which was built as part of Manchester's reconstruction after the IRA bomb blast is to be closed for emergency repairs.
The walkway, linking the Arndale with Marks and Spencer and Selfridges, will be closed for six months.
The repairs to defective glass panels will cost the city council and the Arndale £365,000 each.
Corporation Street will also be closed to traffic except bikes and pedestrians so scaffolding can be erected.
A council spokesman said the bridge, designed by Hodder Associate Architects, would continue to deteriorate if not repaired, and become dangerous.
The repairs are due to get under way in the next few days.
Councillor Pat Karney, the council's city centre spokesman, said: "This bridge is an important link between some of the busiest shops in the heart of Manchester's shopping area.
"We apologise for any inconvenience caused while this one-off safety work is carried out but doing nothing is simply not an option.
"We would obviously prefer not to have to do this during a difficult financial climate, but allowing the bridge to deteriorate would have been a false economy and incur substantial extra cost."
Glen Barkworth, general manager at Manchester Arndale, said the centre was "fully supportive" of the work.
"This essential maintenance work will ensure we have a safe, well maintained and illuminated facility which provides convenient access for the public.
"We have witnessed reduced usage of the link bridge decline due to its current condition and have consulted with Manchester City Council in order to agree an improvement programme.
"When the proposed enhancements are completed to the bridge we expect to see a higher proportion of people use it on a daily basis."
The original pedestrian bridge was badly damaged in the bomb blast.
Related Internet Links
The BBC is not responsible for the content of external sites.