Sale boy stabbed in row over dog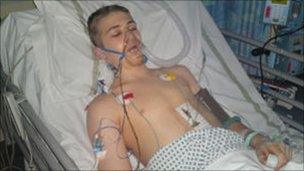 The parents of a boy stabbed in a row over a dog have appealed for help in catching the attacker.
Michael Stevenson, 13, had been playing football with a man in Sale on Saturday when he was attacked.
It is understood the man had rowed with another man after his dog clashed with Michael's Rottweiller Roxi near Cherry Lane.
The man then returned when Michael was on his own and stabbed him and his dog, leaving the pet dead.
The schoolboy is being treated in hospital, where his condition is described as stable.
Michael's family have released a photograph of him showing him lying in hospital.
His uncle, John Walker, also of Sale, said: "His mum was told on Saturday night when they rushed him to the operating theatre that he had a 50-50 chance of living."
He said the youngster had been trying to recreate the overhead kick scored by Wayne Rooney in the Manchester derby before the attack on Saturday afternoon.
Michael's brother Damon, 19, rushed from the family house nearby and saw "blood pumping out of him", Mr Walker said.
The boy was rushed to hospital and later underwent emergency surgery. The knife had punctured one of his kidneys, Mr Walker said.
The family do not know how long Michael will have to remain in hospital.
Mr Walker urged anyone with any information about the attack to contact police.
"The person who has done this obviously hasn't got an ounce of regret in him.
"He did this on Saturday and as far as we are aware he hasn't handed himself in."
He added: "Anyone who is looking after this guy needs to take a good long look at themselves. You can't protect someone like that. There's no honour in that."
Det Insp Frank Morris said: "While we are trying to trace one offender, we will investigate and take action against anyone who is harbouring the man responsible for this attack."
Supt Shirley Cullis-Wilding added: "We have had a fantastic response from the community with information that has supported this investigation.
"As a result they have helped our inquiries which are continuing.
"This was an isolated incident and the community has no reason to worry about their safety."
Related Internet Links
The BBC is not responsible for the content of external sites.