Lancashire CCC must win its Old Trafford hearing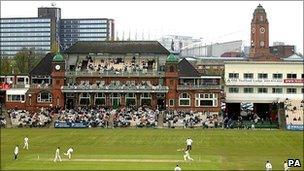 Lancashire County Cricket Club's chief executive says its financial future is at risk if it loses a High Court hearing into its ground upgrade plans.
Property company Derwent Holdings, owners of nearby White City retail park, wants a judicial review of planning permission given to the club.
Jim Cumbes said the club is already £1.6m out of pocket in legal and planning fees because of the dispute.
The High Court action will be heard in Manchester on Monday.
Last week Mr Cumbes said that the club's next financial figures would be "frightening".
The club has said it needs the upgrade to be a Test Match venue for the 2013 Ashes Series against Australia.
Under the plans its capacity would increase from 15,000 to 25,000.Mr Cumbes said: "The future would be very difficult indeed. For a start we would no longer be a test venue, the club would be in a very serious position."
Lancashire's £32m redevelopment plans, include a new pavilion, new pitches and two new grandstands.
Derwent Holdings is one of several companies set up by the millionaire Kwik Save founder Albert Gubay, whose will states that all of its profits will fund charitable projects.
Mr Gubay, who is now based in the Isle of Man, said: "It isn't the intention to stop the new stand being built at Old Trafford and I am sure the stand will be built in one way or another.
"It's just that we believe we are doing the right thing."
Derwent Holdings, challenged the original planning permission after Trafford Council rejected Derwent's application for a Sainsbury's store at White City.
However, Derwent has argued the council gave permission close by for a Tesco's store, a development which is allied to the Lancashire CCC plans.
The plans were called in by Communities and Local Government Secretary Eric Pickles for review, who sent them back to Trafford Council which approved the proposals in September.
Related Internet Links
The BBC is not responsible for the content of external sites.