Huyton school leather football ban safety row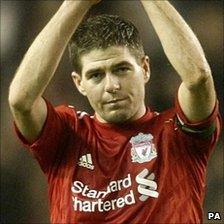 A school in an area of Merseyside responsible for producing some of Britain's top footballers has banned leather footballs on safety grounds.
Malvern Primary School in Huyton has told pupils they must only use sponge footballs to prevent injury.
Huyton is the birthplace of Liverpool's Steven Gerrard, Newcastle United's Joey Barton and Everton veteran Peter Reid.
A children's anti-obesity charity has criticised the policy saying children "must be exposed to risk" to learn.
Tam Fry, chairman of the Child Growth Foundation, said: "Children must be exposed to risk, otherwise how can they be expected to learn?
"Schools should be places to learn.
"They may think they are protecting the children but they could just as easily fall over playing with a sponge ball.
"Policies like this mean our children are in danger of becoming cocooned cotton buds."
A Knowsley Council spokesman said: "Malvern Primary School treats the health and safety of its pupils as a top priority and has for a long time had a policy of protecting children by recommending sponge balls in the playground before school starts and during breaks - especially as the playground accommodates children from the age of four to 11 years old."
Related Internet Links
The BBC is not responsible for the content of external sites.