University to advise world's airports on environment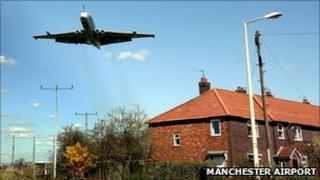 Manchester Metropolitan University has been chosen to advise the world's airports on how to reduce their environmental impact.
The university's Centre for Air Transport and the Environment (CATE) will train airport managers for the Airports Council International (ACI).
The ACI chose CATE partially based on its work with Manchester Airport.
The airport claims to be pioneer in airport environmental management.
CATE's Dr Paul Hooper said its advice would not solve the issues associated with air travel, such as carbon and noise pollution, but it would help improve the impact on the environment.
"What it does is it enables you to be informed in saying 'if I have a certain amount of resources to deal with these impacts, how can I have the greatest effect?'
"Obviously, if you are armed with better information, you are more likely to make more effective and more efficient decisions."
'Expertise in Manchester'
CATE's team includes Professor Callum Thomas, who was in charge of the environment department at Manchester Airport when it was set up in 1986.
Professor Thomas said: "We worked in the early days on noise, on air quality and began thinking about the climate implications of air transport.
"Around five years ago, with the need to cut CO2 emissions on the agenda, we started working on how you manage the carbon emissions of the airport.
"That included everything from the aeroplanes to the people driving to the terminals to the heating and lighting of the terminals themselves.
"If you look at the operations of the airport, including the aeroplanes in Manchester air space, 60% of the emissions come from people travelling to and from the airport.
"Twenty per cent comes from the aircraft movements on the ground, taking off and landing, and a final 20% comes from the energy used in the terminals and the vehicles owned by the airport."
Professor Thomas said that it had always been the policy of the airport and the university to share research, and that because the field of investigation was still a new area "a lot of the expertise is in Manchester".
The CATE team will deliver the advice at several global hubs and has already been training officials in China, Jamaica and Dubai.
Dr Hooper said the sessions were about making the airport managers consider "how best to mitigate against any adverse impacts".
"If you look at an airport as a large-scale terminus, akin to a shopping centre in that people come to it and leave it in cars and do what they want to do at that location, there's a suite of environmental consequences and challenges around it.
"So it is about saying 'okay, how can we affect those in order to reduce the impacts?'
"Sometimes you can affect the activity itself, sometimes you have to think about the by-product and sometimes it's thinking 'do I really need to do things in that way?'"