Greater Manchester councils short of road repairs cash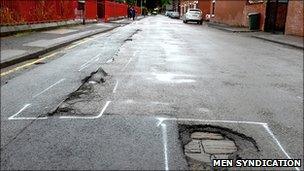 Two councils in Greater Manchester have admitted their highways budget will not be large enough to repair all of their roads, BBC research has found.
Of the 10 boroughs, only Rochdale and Conservative-run Trafford responded to the question under the Freedom of Information (FoI) request.
Labour-run Rochdale Council said it would cost an estimated £65m to fully repair all of its roads.
In its latest budget, £250,000 has been set aside to tackle its worst potholes.
Councillor Jacqueline Beswick, cabinet member for partnerships, said potholes were a huge problem in the borough, with fresh damage appearing on a daily basis.
"It's a big issue. We're doing our best to tackle it," she told BBC News. "We're coping with about 98% but they're just appearing daily."
As well as the one-off investment, the council has a rapid-response team to deal with smaller incidents. But despite the efforts, the borough is facing a rising legal bill for payouts arising from its damaged roads.
It paid out £9,577 in claims between April 2008 and April 2009 - but this jumped to £31,000 and £36,000 in subsequent years.
"What we have got now is a one-off investment and it will help clear the backlog of potholes," she added.
"All of these potholes are damaging cars and are dangerous to other road users and pedestrians. This is just the first step to making our roads safer.
"It's a major concern because if the estimate is £65m to resurface all the roads, then £250,000 to help towards potholes isn't enough."
Last week, the government said it would be putting aside £100m for councils to bid for if they felt they had been badly hit by potholes.
Mrs Beswick said the council would certainly be applying for some of the pot, but were currently unsure about the criteria.
"If every council bids for this and everyone was to get some, it's still going to be a drop in the ocean," she added.
"It sounds a lot of money, and to a certain amount of councils it might make a lot of difference, but I don't think we're going to get £65m off them."
Councils were asked for details of their highways budget and the amount of money they spent on repairs as part of the BBC research.
Three Greater Manchester councils - Wigan, Oldham and Tameside - failed to respond.
Related Internet Links
The BBC is not responsible for the content of external sites.