Levenshulme Baths saved from closure by pool campaign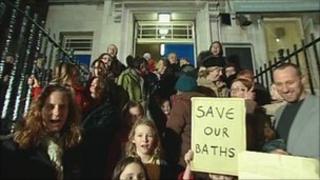 A Manchester swimming pool has been saved from closure after a public campaign to keep it open.
Levenshulme Baths was one of two swimming pools earmarked for closure as part of council cuts worth £109m.
However, following a number of protests, Manchester City Council has said it will now replace it with a new facility.
Gerald Kaufman, MP for Manchester Gorton, told the House of Commons it was a "victory for community action".
The U-turn on the pool closure decision was confirmed by Councillor Bernard Priest, the council's executive member for finance.
He said the council had received more responses on the proposed closure of Levenshulme Baths than any other aspect of the budget.
"As a result of the strong arguments presented by local people we have asked the chief executive to draw up a report on options to replace the pool with a modern facility which would be more cost effective in operation, and to identify options to keep the existing pool open until the replacement is available."
'Ecstatic'
Mr Priest acknowledged that The Save Levenshulme Baths campaign was instrumental in reversing their decision.
Baths campaigner Beth Marshall, 28, said everyone involved in the protests was "absolutely ecstatic".
"This is about a community standing together and refusing to accept this decision," she said.
"We all use the baths, we all use the gym and we're just delighted that it's not going to close."
Local MP Gerald Kaufman congratulated campaigners in the House of Commons saying it was a "victory for for community action".
He added that the baths would be rebuilt to reopen in two years time, during which time the existing leisure centre would remain open.