Oldham Council agrees to cut councillors by a third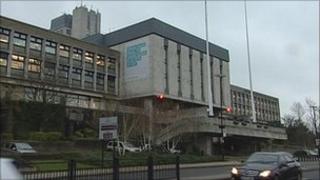 Oldham Council has approved plans to cut the number of its members by a third.
The Liberal Democrat-run authority said the move would help to reduce the £280,000 it spends on expenses and allowances every year.
The council needs to save £23m from its 2011-12 budget and a further £15m in 2012-13.
If the proposals are ratified in April, each ward will have two councillors rather than three.
About 800 jobs are expected to be lost at Oldham Council as a result of government cuts to its budget.
Council leader Howard Sykes said he and and his fellow members would "share the pain" of the cuts with people.
'Crystal clear'
Mr Sykes said the "radical plans" to reduce the number of councillors from 60 to 40 were a direct response to suggestions by staff and members of the public.
"Citizens were crystal clear in telling us that in order to protect front-line services, no aspect of council business should be exempt from possible savings.
"That includes looking at the amount of public money spent on councillors, and we have heard that message."
Oldham Council currently has 60 councillors, three per ward, who each serve a four-year term with a third standing for election every three years out of four.
The report proposes that the number of members should be reduced to 40 - two per ward.
Mr Sykes added that Oldham had identified £40m in savings for 2011/12 and would need to find about £24m more in 2012/13.
The plans go before a meeting of the full council on 20 April.