Stockport Hospital admits swine flu errors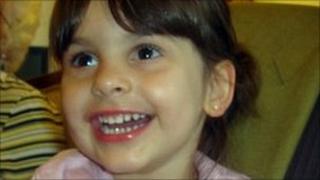 A Greater Manchester hospital has admitted mistakes were made after medical staff failed to spot swine flu in two children.
Both were sent home after being given treatment for other conditions. Lana Ameen, aged three, later died.
An independent review was carried out into the care given at Stepping Hill hospital in Stockport.
Trust chief executive Dr Chris Burke said he had apologised to the parents and that lessons had been learned.
Lana Ameen from Birmingham was taken to Stepping Hill on Christmas Day 2010 with a temperature but was sent home, only to be readmitted later after suffering fits.
She was rushed into critical care at Alder Hey Children's Hospital where she later died.
Five-week-old Harvey Flanagan was left "fighting for his life" after being sent home twice by staff at Stepping Hill just before Christmas.
He was only diagnosed with swine flu after his parents, Andrew Flanagan and Michelle Dyer from Heaton Chapel, took him to Tameside Hospital.
'Red flag'
The inquiry, led by Dr Rosemary Morton from the Royal Manchester Children's Hospital, did not criticise doctors for failing to diagnose the illness.
However, it identified areas for Stockport NHS Foundation Trust to improve the care offered to children attending the hospital's Emergency Department (ED).
The main recommendations were to:
Ensure greater involvement of senior doctors and consultants in making decisions about the care and treatment of children
Provide specialist advanced training for more of its doctors and nurses in the resuscitation of children
Deliver refresher training to all staff in the spotting of 'red flag' symptoms in babies
"I have already personally apologised to the parents of the children concerned," said Dr Burke.
He added: "We have taken on board all Dr Morton's recommendations and have acted on many of them immediately.
"We have discussed these cases in detail with all the doctors and nurses involved, providing individual counselling, support and training where appropriate.
"We want children to receive the best possible care when they attend ED and this is why we have taken immediate action."
In a statement, Dr Morton said: "It is very challenging to detect the early signs of significant illness in children and to treat children who have serious or life-threatening conditions."
"It is important to learn from previous experiences and to develop policies, procedures and training which can be put in place to ensure the best and most appropriate care for our children," she added.