Archbishop of Canterbury calls MediaCityUK 'impressive'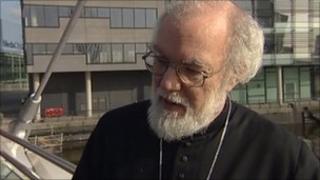 The Archbishop of Canterbury found MediaCityUK "hugely impressive" after visiting the area for the first time.
Dr Rowan Williams was in Salford to open an £11m bridge over the Manchester Ship Canal with the Archbishop of York.
Dr Williams said he had "heard about it" and "seen photographs" but neither had prepared him for the reality.
MediaCityUK will house the new northern headquarters for the BBC, along with production companies and a University of Salford campus.
Dr Williams said the development sent out "a tremendous message for this neighbourhood, this area and this city".
"I'd heard about it, I'd seen photographs and so forth, but actually seeing it, not exactly in the flesh, but in the concrete and the glass, it's hugely impressive," he said.
The Archbishop of York, Dr John Sentamu, agreed with Dr Williams' sentiments, saying the buildings were "marvellous".
"Youngsters can actually train here and see all these other wonderful programmes going on and learn the arts; I think it's just incredible," he said.
The pair have had several engagements during their time in both Salford and Manchester, coming together for the opening of the bridge and a guided tour around the area.