New rail link plans to Blackpool and Carlisle rejected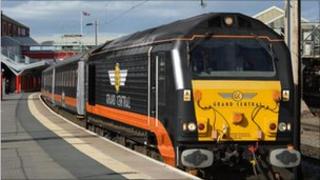 Plans to restore direct rail links from Blackpool and Carlisle to London have been turned down.
Grand Central had applied to operate a service between Blackpool North and the capital while Alliance Rail Holdings had also bid for a Euston to Carlisle service.
But both schemes were rejected by the Office of Rail Regulation (ORR).
The news came as the regulator approved a new more flexible 10-year franchise for the West Coast line.
'Limited competition'
Blackpool has been campaigning for a rail link to London ever since the last direct service between the resort and the capital was scrapped in May 2003.
As part of its bid, Grand Central said it would open up a direct service to London for 340,000 people in the Fylde Peninsula from the three stations of Blackpool North, Poulton-le-Fylde and Kirkham and Wesham.
The benefit to passengers, it said, would be to avoid the inconvenience of changing at Preston to board a London train.
Although this was rejected by the ORR, a spokesman for the regulator said the way was still open for the introduction of "limited competition from new operators" on the West Coast line.
"We understand many will be disappointed that the regulator has not at this stage given the go-ahead to some of the plans for new train services on the West Coast Main Line" he said.
"The door is still open to operators for new services who can demonstrate that their proposals offer extra benefits to passengers which outweigh any negative effects on other operators. Indeed, we are currently working with the operators to discuss revised proposals."
Alliance, meanwhile, said it had submitted a revised application to run regular Inter City services on the West Coast Main Line via the Great North Western Railway.
The operator said it was looking to offer services between London Euston and London Kings Cross to locations such as West Yorkshire and Crewe.
The West Coast Main Line franchise is currently operated by Virgin Trains.
The approval of a new 10-year franchise paves the way for improved services on the key London to Scotland route, with plans to develop a revised West Coast timetable from December 2013.