Tameside hospital set to improve finances after warning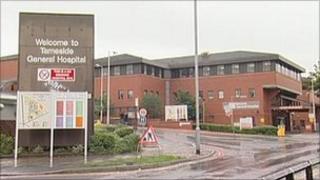 A hospital is cutting the number of agency staff it employs and reducing the length of hospital stays in an attempt to save money.
The trust which runs Tameside General Hospital has been warned it must take action by spending watchdog Monitor.
It found Tameside Hospital NHS Foundation Trust in "significant breach" of its terms after its financial position "deteriorated".
The trust said it will end this financial year with a deficit of £1.4m.
The warning from Monitor, the independent regulator of NHS foundation trusts, came after the deterioration in the second quarter of 2010/11, according to a letter sent to the Greater Manchester trust's board.
'Ruling accepted'
It read: "Being significantly off plan in quarter two demonstrates a failure by the board to manage the trust's resources effectively and efficiently."
Monitor has decided not to use its formal intervention powers at this stage but has said it will "review the trust's future performance against specific milestones and actions".
Christine Green, chief executive of Tameside Hospital NHS Foundation Trust, said: "The trust accepts Monitor's ruling and fully understands its implications.
"We are working very closely with Monitor and are developing action plans to return the trust to financial stability."
An additional statement said steps already taken by the trust include "reducing reliance on more expensive agency staff by increasing nursing and medical staff numbers" and plans to cut the length of hospital stays due to new community-based services and new daytime surgical facilities.
The trust is also working with "external consultants to ensure no stone is left unturned in the drive for efficiency and financial stability".