Christmas trees are 'shock absorbers' on Cheshire river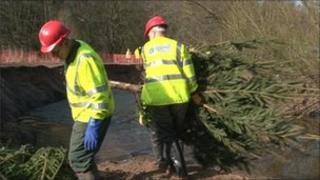 Christmas trees have been used as part of a trial to conserve a Cheshire river with natural materials.
The banks of the River Bollin in Wilmslow are sandy and easily eroded.
To protect them, the Environment Agency has installed hundreds of Christmas trees and logs on a stretch which is under threat.
The agency said it was a cheap and attractive solution which could see the return of salmon to the river and might be used on other waterways in future.
The Carrs is a popular green space near Wilmslow town centre popular with dog walkers.
However, the level of visitors has seen the footpaths steadily eroded and sediments washed into the water.
Willow spilling
Instead of using heavy building materials, tree trunks have been hammered into the river bed, behind which is placed a filling of cut Christmas trees.
Andy Eaves of the Environment Agency said the layer of trees acted as a "shock absorber" along a 300m (980ft) stretch of the river.
"When the water level rises to normal flow, it hits the logs - that's no problem," he said.
"But when it's in high flow and carrying a lot of silt, the water hits the Christmas trees which absorb the energy of the river."
The conservation work also uses a technique known as "willow spilling" which uses live willow woven around wooden stakes to form a living barrier.
It is believed the natural materials provide valuable shelter to fish and invertebrates.
The water quality of the Bollin has improved significantly in recent years and salmon have been spotted downstream.
Katherine Causer of the agency said, to attract the fish to breed in the Bollin, the water had to be kept clean.
"Salmon like to lay their eggs in gravels and what tends to happen if we have a lot of sediment getting into the river, it will block those gravels."
The Environment Agency said the technique had been tried on the River Derwent in Cumbria and if the Bollin trial proved successful, could be used on other rivers.