Tyledesley pub fire: three held over robbery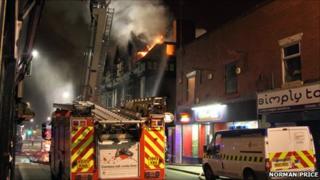 Three men have been arrested after a pub in Greater Manchester was robbed and then set alight.
Two men in balaclavas took cash from a staff member at the George and Dragon, in Tyldesley, on Thursday night before escaping in a van with a third man.
The pub was later set alight, causing extensive damage and leaving the owner shaken, police said. No-one was hurt.
Three men, aged 19, 22 and 26, remain in police custody for questioning. Inquiries are continuing.
Det Insp Jon Keeley, from Wigan CID, said: "People in the area are likely to be worried by the nature of this crime, that their local pub has been robbed and then set on fire.
"Although we have made three arrests, I would like to reassure people that we are not complacent and are continuing to investigate this incident thoroughly to ensure that anyone involved is brought to justice.
"There will be extra officers visible in the area over the next few days and I would ask anyone with any concerns or information to please speak to these officers.
"You may think that some of the things you hear over the coming days are gossip, but this information could be useful to us and help us with our investigation."