A guide inside Manchester's new music: Fans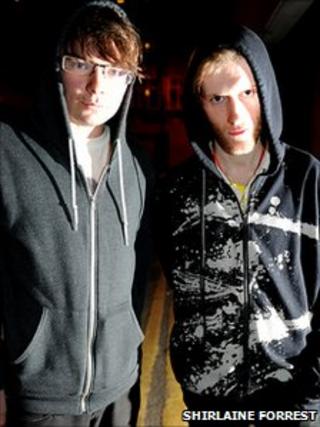 Fans are important, they justify a band's existence; imagine how Scouting For Girls would vanish if people weren't willing to shell out on CDs.
If that isn't a tantalising example of the power that a band can give their audience, then nothing is.
Think about the bands you like; with so many claims about the brilliance of each new band, how did you find them?
The best tips are word-of-mouth: if your mate tells you how ace a band are, you'll search for them moments later.
A smart band focuses on its fans like never before, nurturing a two-way relationship.
The first true fans that stick with you act as cheerleaders, employers and guardians; they are the people that will actually buy that difficult third album that everyone else dismissed as an incomprehensible detour.
So what does a band need to do to ensure a good relationship with fans and what do they want from you, besides your songs, your drunken tweets and badges with your face on it?
An expert opinion
D/R/U/G/S's Callum Wright has enjoyed a rocket-propelled rise that most bands can - and always do - dream of.
He steps from the billowing rain and his hood is up, just as it is on-stage.
He's carrying a small bag and a keyboard stand - in the bag is, effectively, his band.
They are a band who were only conceived in April 2010, yet a few short months later, they emerged as the buzz band of In The City, with DJs, bloggers and journalists scrabbling for new superlatives.
Their exponential growth has been fuelled by online chatter.
I pictured a carefully orchestrated Twitter campaign, the wholesale wooing of sharply-selected blogs and an ultra-savvy PR guru - Cal almost chokes.
"No," he tells me, with a broad grin, "it's all been from word-of-mouth - we haven't done anything".
"We put a lot of music out there for free - we were told we shouldn't do it, but we did it anyway - and that sort of got our name about.
"Blogs picked up the songs and they dashed them out there further - that's been a massive thing for us."
D/R/U/G/S have put in just as much work into creating an eager fanbase - it's just this music-only approach has been much more idealistic, and successful, than most, and the ravenous fans have picked up the slack.
"We didn't even put our remix of Egyptian Hip Hop's Rad Pitt out there - it wasn't supposed to be available.
"Someone must have bootlegged it from MySpace, but it worked.
"America was almost quicker to pick up on us than here in the UK - Altered Zones [the Pitchfork spin-off blog] were on us straight away."
'Approach it like a business'
Cal has a well-intentioned restlessness, a symbol of his determination and focus, rather than rudeness.
The fans are integral to his vision; he wants success.
"We're only getting our business together now - and we want to approach it like a business - because it is important.
"We don't want to have that [stereotypical] indie aesthetic of almost being embarrassed of success - we want to get it right."
The fans are D/R/U/G/S' lifeblood and if the 'business' is to succeed, Cal needs to keep pleasing them.
So what do they want - and does he even care?
"I know our sound is what they want to hear, because it's what I want to hear - it's what I've been waiting to hear.
"But it would be easy for us to get caught up in what other people say - especially now there's so much being written about us.
"You can't compromise your vision. And that's what's got us here."
'If people don't like it, they don't like it'
Cal loves playing live most of all, and cherishes the relationship his music has with, and the effect it has on, the audience.
At the moment, his choices tally with those of the masses - an extremely envious, and precarious, position.
Having been caught out by the success and acclaim, he is philosophical about the fickle nature of fans' reactions.
"I don't believe that, as an artist, you can get it 'wrong'.
"Whatever music you put out is what you put out - that's where you are at that moment.
"And if people don't like it, they don't like it."
Here is a band who have focussed so wholly on the songs that the rest just followed suit.
And by grabbing the zeitgeist, he's proven what everyone I've spoken to has told me: it's all about the songs, stupid.