Lancashire's Old Trafford cricket plan judgement due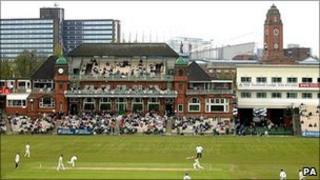 A High Court decision on Lancashire County Cricket Club's (LCCC) £32m ground redevelopment is expected next week, the club has said.
The Old Trafford plans, which include a new Tesco supermarket, were approved by Trafford Council but challenged by property company Derwent Holdings.
It came after the firm had planning permission refused for a Sainsbury's on its nearby White City retail park.
The formal hearing of the judicial review ended on Tuesday.
Jim Cumbes, chief executive of LCCC, has said the club's financial future is at risk if it loses the judgement.
The club believes it could effectively end its hopes of hosting high-profile international matches, with the standard of stadia around the country ever improving.
Although a verdict had been expected on Friday, the club said it was unlikely until at least next week.
A spokesman said: "LCCC understands that judgment in the Judicial Review into Old Trafford ground's redevelopment plans, will be handed down at the earliest next Monday, March 7th."
The redevelopment plans also include a new pavilion, new pitches and two new grandstands.