Waterboarding 'traumatised' actor in Ken Loach film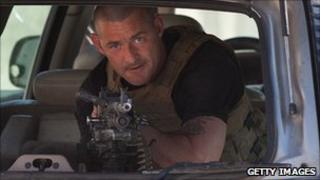 A Manchester actor has said his role in the film Route Irish left him with weeks of panic attacks.
Trevor Williams, who plays a private security contractor in Iraq in the Ken Loach feature, endured 10 hours of waterboarding during production.
Mr Williams said that to ensure the scenes looked right, he had decided to undergo the controversial torture technique for real on camera.
He said the experience had given him "an empathy for any kind of torture".
Mr Williams said the filming of the scenes had been "exhausting and emotional", but that he hadn't realised how much they had affected him until he was travelling home.
"I had panic attacks, I could feel the towel ingrained into my face, but I knew that it was because I'd done it for 10 hours.
"I genuinely knew I wasn't going to die, but it has given me an empathy for any kind of torture."
'Pivotal point'
In the film, Mr Williams' character is subjected to waterboarding, the controversial technique used under the Bush administration by US forces, before being banned by President Barack Obama in 2009.
Mr Williams said it was terrifying.
"What happens is you get tied down and they elevate your legs, so your lungs are higher than your throat.
"After that, they attach a towel to your face and pour water into the towel.
"Your throat fills up and your body reacts and gags - this would normally let water into your lungs, but the fact that they're higher means that can't happen, but your brain thinks you are drowning."
Mr Williams said to protect him, the film crew had worked out a safe way of waterboarding, but it soon became clear it was not working.
"Each time we got to the towel scene, they would stop and put a tube into my mouth so I could breathe.
"It would take all the energy out of it - it's such a pivotal point of the film, you knew this was not going to do it justice.
"So I made the decision, along with Mark and one of the crew, to just do it.
"I trusted them enough to come up with a scenario where Mark would do it and if I raised my thumbs, the crew would run over and release me."
'Big injustice'
The actor said the reality of what he had done only hit on the way home.
"By the end, everyone was congratulating me - I'm an actor, I have an ego, and I was pleased with myself.
"The next day, I was coming back on the train, it was quite busy, and suddenly I could feel the towel on my face.
"I couldn't get my head around it - it has worn off now."
Mr Williams said the worst experience had come while he was researching the part, when he had seen videos making light of waterboarding.
"I looked online and saw silly kids having a go at it.
"What's sad is that they last about five seconds then get up laughing.
"It does it such a big injustice because people seeing that will think it's not that bad.
"You do it for hours and hours and, more importantly, you be an innocent person and have that done to you in a war zone, and I can assure you it affects you."