NHS Bury reinstates funding for IVF treatment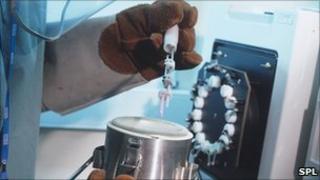 Health bosses in Greater Manchester have reinstated funding for IVF treatment.
NHS Bury suspended all assisted conception services temporarily in September, in an attempt to save money.
The primary care trust said due to cost-cutting in other areas, it was now able to restore the services.
A spokeswoman said patients hoping to receive IVF treatment would now be assessed in line with national guidelines.
The trust has a budget of £25.8m each month, but last year was spending an additional £1.3m every month.
Six months later that excess has been reduced to £0.6m each month.
The trust said a package of cost-cutting measures agreed by the board should now produce a balanced monthly rate for the new financial year.
Paul Horrocks, chairman of NHS Bury, commented: "Financial stability is our top priority and I am confident that this package of measures will deliver that."
Dr Kiran Patel, GP Commissioning Development lead, said: "I am confident that this package of measures represents a fair and balanced programme.
"We are committed to working with GPs across Bury to ensure their successful implementation".