Manchester doctor's fears after Libya release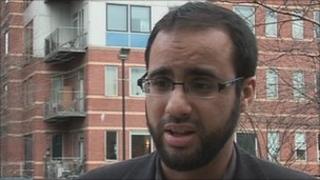 A Manchester doctor's brother has been released after allegedly being detained in Libya.
But Ahmed Sewehli, 36, still fears for his father and two brothers who were also held at the beginning of March in the Libyan capital, Tripoli.
His father Abdurrahman was an outspoken critic of Libyan leader Col Gaddafi.
Mr Sewehli said: "The welfare of my father and brothers is linked to the ending of the Gaddafi regime."
Mr Sewehli, an NHS psychiatrist from Cheetham Hill, says he has not spoken to his 19-year-old brother Mohammed much since his release, as he fears the phone lines are being monitored by the Libyan authorities.
'Scare tactics'
"I don't think anyone's safe in Tripoli or in Libya. The people who released him know where he lives, they know where my mum lives, they could decide to take him again whenever they want to, " he said.
"Hundreds and probably thousands of people have been kidnapped because they just decided to protest.
"And some of them weren't protesting, just people who are instantly being taken for scare tactics by Gaddafi...and it's worked in Tripoli," he added.
He still has no information on the whereabouts or welfare of his brothers or father.
His missing brothers, Kalil, 31, and Shtewi, 25, were born in Britain and have dual British and Libyan nationality.
A spokesman for the British Foreign and Commonwealth Office (FCO) said: "We continue to make representations through the Turkish embassy which is representing us at this time."
Mr Sewehli said he had been speaking to doctors in the third city of Misrata who had been treating people injured by forces loyal to Col Gaddafi.
He said that he was yet to hear about any injuries or civilian deaths as a result of the coalition air strikes.
"Over the last week it's the same doctors who've been on shift, they've not been able to be relieved, because if people step out, then most likely they'll be shot," Mr Sewehli said.