Volunteer interviews for 2012 Olympics start in Salford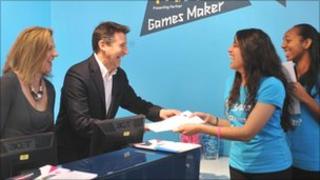 Interviews to select thousands of volunteers for the 2012 Olympics are taking place in Salford.
It is estimated that 5,000 people will be interviewed from 24 March to 16 April at the World Digital Centre in Salford Quays.
About 100,000 shortlisted applicants will be cut down to 70,000 in national recruitment events.
Paralympic Champion, Jody Cundy MBE said: "It is the volunteers that will make 2012 the greatest show on earth."
London Organising Committee of the Olympic and Paralympic Games (LOCOG) chairman Lord Coe said: "I know the difference between a good games and a great games is the quality of the volunteers."
Interviews for the "games maker" roles will consist of meeting LOCOG staff recruiting for the volunteer roles.
They will also see an exhibition about Olympic and Paralympic volunteering and undertake a 30-minute interview.
It is thought 224 people a day are expected to be interviewed for the London-based roles including taking tickets and accompanying athletes on site in what is the UK's biggest peace-time recruitment drive.
Candidates will find out if they have been successful at the end of the year.
Interviews have already begun in London.