Nursery children get antibiotics after meningitis scare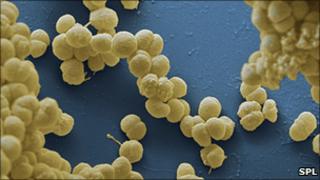 Antibiotics have been given to about 200 children in Greater Manchester after five developed the infection which leads to meningitis.
The children, who attended nurseries in Leigh and the Tyldsley/Worsley area, were admitted to hospital with the meningococcal infection.
More than 50 members of staff were also given medication as a precaution.
The Health Protection Agency (HPA) has assured parents the infection does not pass easily from person to person.
Antibiotics were given to 96 children, 26 staff members and six student helpers at the Fairfield Nursery in Leigh after two of its children developed the illness within one month of each other.
Precautionary measure
Three children who attend the Best Friends Private Day Nursery in the Worsley/Tyldesley area were also treated in hospital for the infection.
As a precaution, a team from the NHS Ashton, Wigan and Leigh attended the nursery and gave antibiotics to 98 children and 24 staff.
The HPA said it had followed national guidelines when the cases were first brought to its attention in February.
Dr Kate Ardern, Director of Public Health for Ashton, Leigh & Wigan Primary Care Trust, said: "We took the opportunity to raise awareness about meningococcal infection.
"The meningococcal germ can cause meningitis, which is inflammation of the lining of the brain, or septicaemia, which is blood poisoning.
"The onset of illness is often sudden and medical advice should be sought immediately if it is suspected."
Meningitis is an inflammation of the membranes which cover the brain and spinal cord and can be caused by a viral or bacterial infection.