Oldham kidnap boy Sahil Saeed's father backs jail term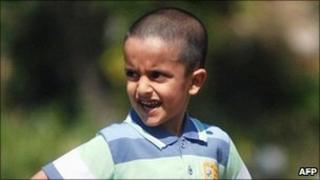 The father of a young British boy who was kidnapped in Pakistan has welcomed reports a member of the gang has been jailed for 60 years.
Sahil Saeed, of Oldham, was visiting his grandmother's home in the Punjab region when he was snatched during a robbery on 4 March 2010.
The then five-year-old was released after being held for 12 days when a £110,000 ransom was paid by his family.
Gang member Imran Husain was sentenced on Thursday, said the AP news agency.
It quoted court official Fayaz Haider who said the court also ordered that all of his belongings and property should be be seized.
Speaking on Friday, Sahil's father Raja told the BBC: "We received justice from the Pakistan authorities."
'Big sentence'
Mr Saeed said the authorities, especially the Punjab government, had helped his family and welcomed the sentence as a "good decision".
"Obviously, if they come out from prison they might start trying to do these kind of things again.
"So 60 years is a big prison [sentence] for them."
Sahil had been visiting family in the town of Jhelum with his father when he was snatched as they prepared for their flight back to the UK.
After days of negotiations with the kidnappers he was left in a field behind a school, near to where he was first snatched.
One year on, his father said Sahil did not remember much of the ordeal but the family were reluctant to travel back to Pakistan.
"The good thing is, it's a long, long time for him now," Mr Saeed added.
"When we try to go to Pakistan we struggle. Maybe if anything happens again with us? [The] best thing is to stay here. We're not going.
"It's hard for us. It's a long time [not] to see our brother and mum."
In April 2010, three men suspected of being involved in the kidnapping were shot dead by police Gujrat, Punjab province.
Several other men have appeared in court in Pakistan and Spain in connection with the case.