Bury Council votes to allow services to be outsourced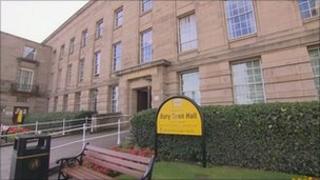 Bury Council's services could be run by either private firms or voluntary groups after councillors passed its transformation strategy.
The measure was passed by a slim majority after the Liberal Democrats abstained and Labour voted against it.
Chief executive Mike Kelly said the council needed to cut spending by 30%.
But the union Unison is claimed that it could lead to lower standards and higher charges.
Transforming Bury is based on the idea that delivering services directly is "not the only option" for the council.
'Cheaper services'
In future, councillors will judge whether services should be provided in-house, by private contracts, with the voluntary sector or in partnership with other local authorities.
They will also have the option to decide if services the council is not required to provide by law should be dropped.
Mr Kelly said the council would decide whether to outsource services based on "residents' needs, value for money, the quality of the service and our ability to sustain that service".
He added: "We have got around £100m of controllable expenditure and we are losing 30% of that.
"Just like any household you've got to look at your priorities, what is important to you and what you must have."
Council leader Bob Bibby said: "We are a very successful council, very, very lean and efficient and as a result of recent cuts it has been very difficult to reduce spending without affecting front line services."
'Wholesale privatisation'
Mr Bibby said Transforming Bury was not about privatisation but looking at the best way of providing different services.
But Councillor Mike Connolly, leader of the Labour group, said: "This is about wholesale privatisation no matter how many words are used to dress it up."
He added: "We are very concerned about the effect this will have on the quality of services."
Steve Morton, secretary of Bury Unison, added: "It might appear cheaper at the front but once you get into it gets dearer and dearer.
"Where there is a profit to be made out of public service, where is that profit going to come from - it is going to come out of quality or higher fees for doing the job."
Liberal Democrat leader Councillor Tim Pickstone said the policy would not lead to the wholesale privatisation of council services, but the authority needed far more scrutiny and consultation when service reviews take place.
Mr Pickstone, who accused Labour of scaremongering, added: "We have two choices - either big cuts, or re-designed services that are delivered more efficiently."