Missing Pearl Rose Gavaghan da Massa birthday appeal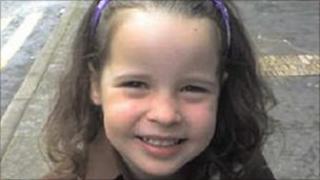 A $10,000 (£6,372) reward is being offered to trace a missing Manchester girl on her seventh birthday.
Pearl Rose Gavaghan da Massa is thought to be in Toronto after her mother Helen Gavaghan took her from Manchester in 2008 without legal consent.
Ms Gavaghan had split from the girl's father Henry da Massa. The ex-couple have joint legal custody of the child.
The reward is being offered by Canada's Missing Children's Society and Toronto Police.
They are also launching a campaign on Facebook to try to find the pair.
A UK arrest warrant and extradition warrant and an Interpol Red notice have been issued for Ms Gavaghan, who is believed to have taken her daughter to an "alternative community" in Parkdale, Toronto.
Police in Canada have said they are concerned for the little girl's welfare.
New names
Constable Wendy Drummond, of Toronto Police, said: "The understanding is that Pearl has not been in school, that she has been doing home schooling and living in an alternative community.
"There is concern that her growth and maturity is not progressing as it should."
She added: "It is with the hope of the social media that Pearl and Helen's image can be put out there and someone can give us the information that we need."
Ms Gavaghan holds a passport in the name of Meta International.
She is also known to have called herself Dana Flaherty while living in Toronto where Pearl was known as Belle Flaherty.
The Canadian authorities believe they may now have other identities.
Ms Gavaghan is described as 5ft 5in (1.6m) and of very slim or thin build.
She has green/brown eyes and had long black hair, which may now be dyed and/or cut short.
She is described as having a prominent angular nose and wide ears.
Pearl is described as having normal build with green/brown eyes and was last seen with light brown shoulder-length hair.
Pictures of Pearl and her mother will be put up in subways and convenience stores in Toronto, as well as on Facebook.
Mr da Massa, a musician who lived in Manchester's Northern Quarter, has been living in Canada for 14 months, trying to find his daughter.
He is expected to address a press conference in Toronto later.
Medical attention
Det Insp Colin Larkin is leading the investigation for Greater Manchester Police.
He told BBC Radio Manchester: "She [Pearl] certainly was in Canada for the past 14 months.
"The Canadian police have been around to the address given and she is no longer there. We don't know where she is although we believe she may still be in the Canada area."
He added: "We are concerned for her welfare.
"She should have had medical attention in the UK before she was taken by her mother. We don't think that has been carried out in Canada."