Fake statue Amarna Princess returns to Bolton Museum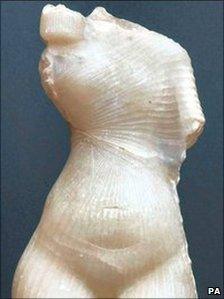 A fake ancient Egyptian statue has returned to the museum in Greater Manchester which was tricked into paying £440,000 for it.
Bolton Council bought the Amarna Princess in 2003 after Christie's and the British Museum authenticated the figurine as 3,300 years old.
But the statue of the granddaughter of King Tutankhamun was created by Shaun Greenhalgh in his shed in Bolton.
It, and other fakes, will go on display at Bolton Museum from 16 April.
Greenhalgh, of Bromley Cross in Bolton, was jailed for four years and eight months at Bolton Crown Court in 2007 after admitting selling faked and forged works of art as genuine and laundering the money he made.
London's Metropolitan Police acquired the Amarna Princess, and Greenhalgh's other fakes, after his conviction.
The pieces featured in an exhibition called Fakes and Forgeries at the Victoria and Albert Museum last year.
Bolton is the first town outside the capital to host the exhibition.
Also included are fakes works created in the style of artists Banksy and Tracey Emin.
Bolton Council's assistant director of adult and community services, Stephanie Crossley, said: "After much publicity around the Amarna Princess, we are pleased to be able to display the statue as part of an informative exhibition which educates the public about forgers rather than glamorises crime."
Greenhalgh's parents helped sell their son's forgeries, making at least £850,000 over a 17-year period.
George and Olive Greenhalgh were given suspended jail terms after admitting conspiracy to defraud.
Related Internet Links
The BBC is not responsible for the content of external sites.