Manchester music computer displayed at museum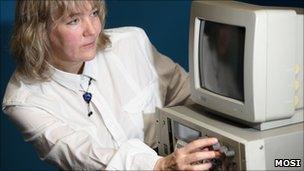 A computer system which helped shape the sound of Manchester music has gone on show at the city's Museum of Science and Industry.
The equipment, which includes an Atari computer and an Akai sampler, was used at Stockport's Strawberry Studios in the late 1980s.
Musician Julia Adamson, who donated it, said at the time the studio was like "the deck of the Starship Enterprise".
The system was used on hits such as The Charlatans' The Only One I Know.
The set-up at the studios was one of the first in Greater Manchester that allowed musicians to work with digital sound.
Key items included a 1985 Atari 520ST, the first home computer with Musical Instrument Digital Interface (MIDI) ports that allowed connection to electronic instruments, and an Akai S1000 professional digital sampler, which let music producers store and edit samples.
Ms Adamson, whose music career began as a member of the chart-topping St Winifred's School Choir, was the first female sound engineer at Strawberry Studios and worked with many well-known Manchester bands using the system.
She said the studios were "an important hub of music and it was a dream job to be a sound engineer there with all these different sessions going on".
"The studio was massive and full of hardware; when you walked into the control room it was like being on the deck of the Starship Enterprise," she said.
She said the advent of MIDI at the studios changed the music production there forever, which allowed a big leap forward from the existing technology of synthesisers.
"In the past, the synthesiser could link in with a drum machine, but the computer was a more sophisticated system," she said.
"It could delay notes or bring notes forward, so you had more control.
"In The Charlatans' The Only One I know', for example, they would use it like a metronome to work with so they played in time and then could add strings to the sound too."
Ms Adamson used the equipment on stage as a member of Manchester act The Fall, who used the technology on several albums, including The Light User Syndrome, The Unutterable and Levitate.
She went on to work as Factory Records' producer Martin Hannett's assistant and is now manager of the Invisiblegirl music company.
Related Internet Links
The BBC is not responsible for the content of external sites.