University student duo are UK's 'top legal negotiators'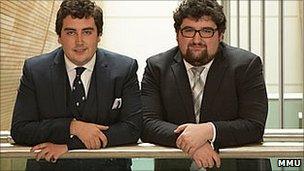 A pair of Manchester Metropolitan University (MMU) postgraduates have been named the UK's top student legal negotiators.
Shaun Lavery and Matthew Jackson took top spot at the annual Negotiation Competition finals in London.
Mr Lavery said the win had come as "a massive surprise".
The duo, who beat 76 teams to take the title, will represent the UK at the International Negotiation Competition in Copenhagen in June.
The Negotiation Competition is an annual contest open to all students undertaking legal training in the UK, including both trainee solicitors and barristers.
Mr Jackson, who attended Bury's Holy Cross College and Reading University before beginning his training in Manchester, said that he felt they had been "negotiating well, but to win was an amazing result".
The pair were up against 76 teams from about 40 law schools in England and Wales when the competition, held by the Centre for Effective Dispute Resolution, began in January.
They triumphed first at a regional final in Chester and then at the national finals at the College of Law in London.
The win will see them contest the international title, which was last won by a UK pair in 2007, when two Leicester University Law School students succeeded in taking the crown.
Mr Lavery, a former student of Liverpool's St Mary's College and Kings College London, said that being given the chance "to represent the nation is unbelievable".
The national win also means that MMU, where the pair are studying on the Bar Professional Training Course, will host 2012's national negotiation competition finals.
Related Internet Links
The BBC is not responsible for the content of external sites.