Bury farmer's Oldham accent draws visitors to shop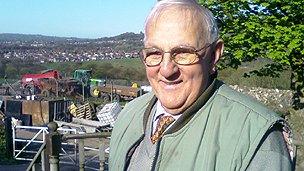 A Bury farmer has been "very surprised" to find people visiting his farm just to hear him speak.
An answering machine message by John Lees, 80, for his farm shop in Walmersley has led people to visit to hear more of his broad Oldham accent.
Staff at the shop have said people ring after closing to hear the message and put the phone down if anyone answers.
Mr Lees said the attention has not bothered him because he "wasn't prepared for it".
Mr Lees, who was born in Oldham, said it never occurred to him that his accent would be of interest to people as he has "had the same voice ever since I could talk".
According to staff members, when Mr Lees works in the farm shop he always has a longer line at his till than they have at theirs.
Mr Lees said he was unfazed by such attention, once he had got over the initial shock of being a local celebrity.
"I was very surprised, but it didn't bother me because I wasn't prepared for it," he said.
"I don't think much about it; if people are happy to listen to it and come and talk to me at the shop, I'm happy to accommodate them.
"I seem to waste a lot of time talking to people and the girls grumble because I'm not serving the customers, but it's just part of the whole affair."
Related Internet Links
The BBC is not responsible for the content of external sites.