Concrete wall to block wood recycling plant noise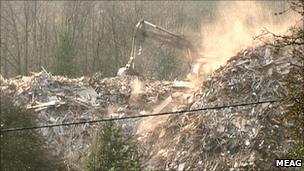 A large concrete wall is to be built in a Tameside town to block out noise made by a wood recycling plant.
Mossley's R Plevin & Sons must erect an acoustic barrier after the Environment Agency investigated complaints of excessive noise at the plant.
The company must build the 6m by 100m (20ft by 328ft) wall by June 2011 to avoid further punitive action.
Mossley Environmental Action Group (MEAG), which had campaigned for action, has welcomed the news.
Donna Liley, spokeswoman for MEAG, said that the noise had been so bad that residents "have to get up when they start work".
"They are the alarm clock of everyone around here - if you fancy a lie-in, that's virtually impossible," she said.
"There are residents who tell me they haven't had a good night's sleep in years and that has a detrimental impact."
MEAG had also complained to the Environment Agency about dust produced by the plant.
The agency found the dust was within acceptable nuisance levels, though MEAG would also like the agency to test it for health issues.
However, it is hoped that the wall, which will cost the recycling firm about £200,000 to build, will help reduce the dust problem, along with reducing the noise.
A spokesperson for R Plevin & Sons said: "After a long consultation between all relevant parties, agreement was reached to build this acoustic barrier, which will cost a considerable sum, particularly in the current climate."
It said that the building of the wall would hopefully bring "an end to the matter".
Related Internet Links
The BBC is not responsible for the content of external sites.