£600m Airport City plan set for take off in Manchester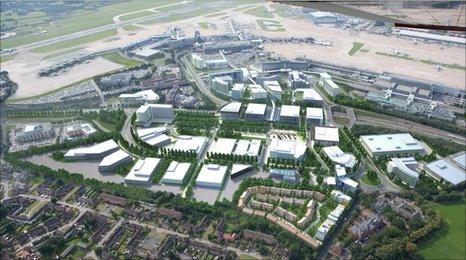 Manchester Airport said it was confident of attracting "leading international companies" for its planned £600m Airport City.
The proposed business park is one of just four new Enterprise Zones confirmed in the budget.
MAG Developments - the property and development arm of Manchester Airports Group - said it hoped the development would create 7,000 new jobs.
The 60-acre park is planned for land to the north of the airport.
Stephanie Mullenger, MAG's business development director, admitted they had to do "some seriously sexy marketing."
But she added that they were hopeful of bringing in the investment to get the Airport City plan off the ground.
"It will be like a city centre which has the fantastic connectivity of an international airport," she said.
Adding: "We're talking to a number of national and international businesses.
"Some are obviously airport-related, some are manufacturing, some are just big international companies. But there's a lot of interest already."
MAG Developments said it had been working on its Airport City master plan long before the chancellor made his announcement in March.
The first of its kind in the UK, Manchester's Airport City is envisaged as a large collection of offices and business premises all benefiting from the close proximity to the airport's transport links.
MAG said it planned to follow the "European model" of Airport Cities in Salzburg, Barcelona and Amsterdam.
Businesses expected to want to locate there include logistics, freight forwarders, research and development firms and those seeking high quality office accommodation.
Ms Mullenger, a former managing director of Urban Splash Work, said: "If you look at most business parks in the UK, you've got these futuristic offices, a few swans and a fountain - but no-one wants to work there.
"We want to create somewhere at the airport - probably for those middle and back office operations - where people really want to come and be part of."
Some major companies have already done just that.
Etihad Airways, the national airline of the United Arab Emirates, announced in March that it was basing its European call centre at the airport, employing 160 staff.
And PZ Cussons - the soap and consumer products group - completed its move to Manchester Business Park next to the airport last year.
Other companies who follow suit are expected to benefit from a business rate discount for Enterprise Zones worth up to £275,000 over five years.
Ms Mullenger said it could be a "huge boost" to the region's economy.
"If we can get Airport City right, it could make Manchester and the North West a more attractive place to be.
"The reach is global - why stop at just Europe?
"If you get international companies in here that have to fly to Mumbai or Hong Kong or China then the airlines are going to be saying: 'Hang on - why don't we put on some long haul services on that route?'
"So it would also help the development of the airport."
Ms Mullenger added: "It creates more jobs, it brings investment into the city and investment into the North West - it ticks all the government's boxes."
Detailed planning applications are expected to be submitted by the end of 2011 with work on the first phase of Airport City to begin in 2012.
Related Internet Links
The BBC is not responsible for the content of external sites.