Oldham toddler Violet Mullen's death 'not preventable'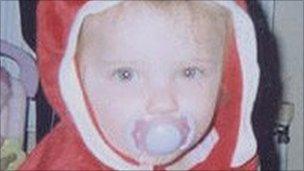 The death of a 15-month-old girl at the hands of her mother's boyfriend was not predictable or preventable, an independent report has concluded.
Violet Mullen died seven weeks after Gary Alcock moved into the home she shared with her mother, 22-year-old Claire Flanagan, in Oldham.
Both were known to social services and Alcock had a conviction for domestic assault.
But the report said there was nothing to suggest he would harm a child.
Violet was punched, slapped and pinched by Alcock over several weeks leading up to her death on 12 January 2010.
She died from internal bleeding after suffering multiple bruises, rib fractures and brain damage - injuries which Manchester Crown Court was told were comparable to those suffered in a car crash.
The Oldham Local Safeguarding Children Board (OLSCB) began a serious case review a few days after her death in a bid to identify lessons that could be learnt from the tragedy.
Its findings were published on Monday and revealed that Flanagan had a history of social services involvement, but was engaging with a local children's centre and was considered "low risk" at the time of her daughter's death.
It concluded there were no indicators of risk which suggested that either Flanagan or Alcock posed a risk of "significant harm or physical abuse".
Consequently, the panel concluded that the abuse and death of Violet "not predictable by virtue of what was known to agencies and therefore was not preventable through the actions of professionals known to the family".
Despite this, it made 76 separate recommendations to the agencies involved in the serious case review.
OLSCB's chairman Jim Leivers said all agencies involved in Violet's care would honour her memory by learning all possible lessons.
"The OLSCB have fully accepted the recommendations arising from the Serious Case Review," he said.
"Everyone involved in this case has been shocked and saddened by Violet's death.
"Quite simply, we can never let our guard down - and all are determined to do whatever we can to prevent any similar tragedy occurring in the future."
Alcock was convicted of Violet's murder in October 2010 and jailed for life. Her mother was jailed for five years for causing or allowing her child's death.
Related Internet Links
The BBC is not responsible for the content of external sites.