Teenage mother who fled 1950s asylum wants to find son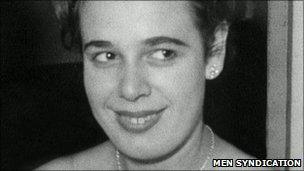 A 74-year-old woman who was confined to an asylum after becoming pregnant at 16 has said she is determined to find the son she was forced to give away.
Diane Roberts, then known as Florence McLellan, was sent by her mother to Brockhall Hospital in 1953 - but later fled to London to build a new life.
When a body was found on a Manchester building site last year her surviving family thought it might be her.
Now, after a reunion, Mrs Roberts wants to find her son to tell him her story.
"I always thought about Joseph - he was always in my thoughts. Always. I can't get him out of my thoughts," she said.
"He's always there because I feel guilty for what I did and it's not me - I was forced to do it.
"But I just want to find my son so I can explain to him, tell him the story, to get it from me."
She told the BBC how she kept her pregnancy secret from her mother and ran away to stay with a friend before the birth of the boy, whom she called Joseph, on 21 June 1953.
But when her friend could no longer afford the rent Mrs Roberts was forced to return home in Manchester, where her mother gave her an ultimatum - give up her baby or live on the streets.
After handing over the child at Manchester Town Hall the then 17-year-old told her family she had changed her mind - and was promptly "dragged off by men in white coats" to the infamous institution, in Blackburn.
"I was screaming to my mum, 'don't let them take me', but she took no notice - she just stood there with her arms folded," Mrs Roberts said.
Struggling to hold back her tears, she added: "I was crying and crying and crying and nobody cared about me. I just felt confused, abandoned [like] nobody loves me, nobody cares."
Medical staff realised the teenager did not belong in the asylum and she was sent to work in the staff canteen. One day while out in the grounds she noticed the gate was open and "took her chance".
Mrs Roberts hitchhiked to London, found work in cafes and two years later met her partner. She settled in Islington and later gave birth to two more sons.
But it was almost 60 years later, after the skeleton of a woman was unearthed at a building site opposite CIS Tower in Manchester city centre, that she was forced to confront her past.
Surviving members of her family - who had no idea what had happened to Florence - contacted police in the belief it may have been her.
She said she was "terrified" when she was traced - through pension records - by Greater Manchester Police.
"I didn't know it [Brockhall] was closed down - I thought it was still standing. I definitely thought they were going to come back and take me," she added.
Now the shock of her reunion with family and old friends is over, her focus is on finding her son.
"I think of him every day. I can't get him out of my head. I just want to know how he is now," she said.
Related Internet Links
The BBC is not responsible for the content of external sites.