Fashion makeover for Manchester's Living Worlds gallery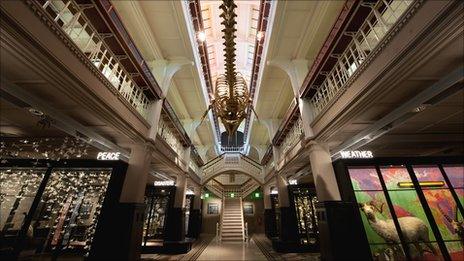 Manchester Museum has unveiled its new-look mammals gallery with the help of a European fashion show producer.
Belgian events company Villa Eugenie is renowned for putting on catwalk shows for the likes of Dior and Chanel.
The fashion firm has been brought in to add a similar "wow factor" to the new Living Worlds gallery which boasts its own mobile phone app.
A spokesman said it represented a "seismic shift in the way museums interact with their audiences".
For over a century, visitors to the museum have learned about natural history by looking at stuffed animals in glass cases arranged by their scientific classification.
Many favourites - the tiger, gorilla and polar bear - are still there in a series of 15 themed displays entitled Life, Bodies, Peace, Humans and Disasters.
But some distinctly un-museum like objects have now been added including origami birds, clockwork teeth and neon signs.
Henry McGhie, head of collections, insisted the artistic reinvention of the old Animal Life gallery was "far from cosmetic".
"If we look at our mission, it is to use our collection to inspire people to think about the past, present and future.
"The architecture is beautiful, the objects are fantastic of course but the gallery had become so cluttered over the 20th Century.
"Basically, the whole thing had become confused, it was out of date and it was time for a very serious change."
The most radical changes were suggested by Etienne Russo, Villa Eugenie's founder, who advised that the museum should put emotion into the displays if it was to avoid becoming a museum piece itself.
For instance, one display tells the story of a Japanese girl who fell ill after the Hiroshima bomb and how her folded paper crane became a symbol of peace.
His other key advice was that all the old "stuffy" labels should be removed.
"That's what you see in museums: object, label, object, label, object, label," said Mr McGhie.
"You don't instil a sense of value in what you're looking at by putting a label with it, so they were very strong on encouraging us to look at each case as an installation, then you go away and find out what it's all about."
With school groups very much in mind, Manchester Museum has developed a free app for mobile phones which acts as a downloadable guide.
"If the gallery's going to be here for 15 years, increasing numbers of people will have touch screen smart phones," he said.
"The good thing is that by controlling the information on people's phones, we can easily signpost things to do after their visit."
The museum's £400,000 makeover was funded by the North West Development Agency.
But why turn to an events company with a background in couture and high fashion?
"The condition of the money was to do something innovative. In terms of who could bring us the greatest innovation, it was, without doubt, Villa Eugenie," said Mr McGhie.
Certainly, the new Living Worlds gallery marks the biggest change to Manchester Museum since it first opened to the public in 1891.
But Mr McGhie insisted the museum was staying true to the scientific principles of "Darwin's bulldog" Thomas Huxley who originally advised that the museum should tell the story of evolution.
"I would say that we haven't abandoned Huxley's principles at all because it was he who said we should present the truths of natural history.
"If there are any truths now they are that we know that people are impacting on the environment.
"Our old gallery didn't do that whereas I hope this one does."
Manchester Museum's Living Worlds gallery opens to the public on 14 April.
Related Internet Links
The BBC is not responsible for the content of external sites.