Manchester Metropolitan University to charge up to £9,000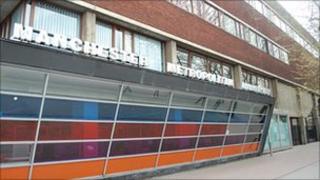 Manchester Metropolitan University intends to charge the maximum £9,000 in fees for at least 20% of its courses.
About 75% of undergraduates will be charged £8,000 from 2012 with the remaining 5% facing fees between £8,000 and £9,000, the university said.
It said governors took the decision after an extensive consultation with staff and the student union.
A £10m scholarship scheme is also being launched in 2012 to support students from less-advantaged backgrounds.
The university said it had committed the funds to ensure talented students could study, irrespective of their social background.
Vice-Chancellor Professor John Brooks said: "This university has a long tradition of supporting less privileged people of all ages across the region through their higher education.
"We are absolutely determined that we remain loyal to our core student bodies and soften the blow of rises as best we can.
"We feel that our fees represent the correct balance between offering a high quality university education and student experience, and the actual costs of delivering this."
The proposals are subject to the approval of the Office for Fair Access (OFFA).
The university, which has 37,500 students, attracted a record 52,750 Ucas applications for 2011, making it the most popular institution in England.