Bolton mother sets up charity for children with bowel disorders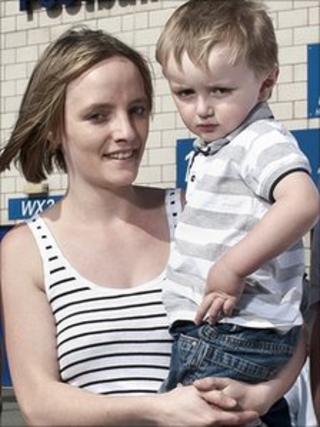 A Bolton woman whose three-year-old son has had 13 operations for a serious bowel disorder, has set up a charity to help children with similar problems.
Sara Jones's son Jacob was born with Hirschsprung's Disease, and had to undergo surgery to enable food to pass through his bowel and colon.
The disease affects about one in 5,000 babies and is more common in boys.
Mrs Jones founded the charity to offer support to local parents and children with bowel and bladder disorders.
Called Champs (Curing Hirschsprung's And Making Positive Steps), it aims to provide local support groups, days out for parents and children, research into a cure and awareness campaigns.
Mrs Jones, 25, said: "After Jacob was born and was diagnosed with Hirschprung's, I didn't really know where to go for information or support and there wasn't really anyone I could talk to.
"So I decided to start my own charity to try and help other families and children who are in a similar situation."
She has signed up for a 5km race to help raise money for her cause.
The One Bolton 5k run, which starts from the Reebok Stadium on 8 May, has been organised by Bolton Wanderers Community Trust with Bolton Council.
"I've never taken part in a run before, but saw the publicity for the One Bolton 5k and thought that this community run sounded ideal as the first fundraising event for my new charity," Mrs Jones said.
"I'd like to encourage as many people as possible to sponsor me, or to take part in the run themselves and raise money for causes close to their own hearts."
Cliff Morris, leader of Bolton Council, said: "The One Bolton 5k is about bringing the community together to raise money for good causes.
"Sara is an inspiration to others in starting her own charity and also in taking on her first ever run.
"We'd like to encourage other Boltonians who have never run before but want to raise money for causes close to them to get involved and sign up for this race."