Man jailed for butting and raping a woman in Manchester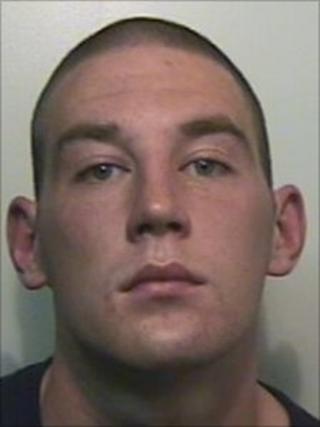 A man who knocked a woman unconscious in Manchester before raping and robbing her has been jailed.
Karl Oakes, 22, of Hannover Towers, Stockport, followed the woman from a city centre bar last October and then head butted her.
He pleaded guilty to rape, sexual assault and robbery at Manchester Crown Court and was jailed for six years.
Det Con Gary Kelly said: "It is only right he has been jailed where he can not pose any threat to women."
On 10 October last year, the victim, aged 20, was enjoying a night out in Manchester city centre with friends.
She left Crunch bar on Canal Street at about 0500 BST but as she made her way home she was followed by Oakes.
When she reached Fairfield Street, he pinned her against a wall and tried to kiss her.
'Emotional scars'
When she resisted, Oakes head butted her and repeatedly kicked her as she lay on the ground before raping her.
The assault caused the victim to lose consciousness and when she came round she heard Oakes returning.
He rifled through her bag and stole her phone and purse, before kicking her in the stomach and walking off.
A passer-by saw the woman in a distressed state and called police.
Det Con Kelly said: "Oakes subjected the victim to a prolonged and violent sexual and physical assault, the emotional scars of which will probably never heal.
"I hope seeing Oakes put behind bars will help the victim in some small way.
"Such offences carry lengthy sentences and we will do everything we can to identify and bring to justice those responsible for such heinous crimes."