University of Bolton to charge up to £8,400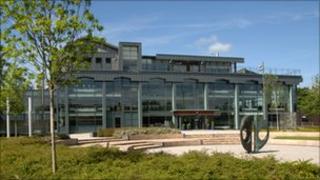 The University of Bolton has announced plans to introduce tuition fees of up to £8,400.
It wants to have three bands of fees - £6,300 for class-based courses, £7,200 for resource intensive courses, and £8,400 for specialist courses.
The university said it believed 70% of its students would pay £7,200 or less.
It said it would be providing a range of scholarships to offset the fees and was not "profiteering" from students and their families.
Universities had to submit their plans for fees to the Office for Fair Access by midnight.
'Excellent investment'
By Tuesday evening, 70 universities in England had confirmed they planned to charge the maximum fees of £9,000.
The University of Bolton Vice Chancellor Dr George Holmes said: "We are not in the business of profiteering from students and their families and do not intend to require one group of students to subsidise the learning of others, hence our range of fixed fees.
"It should be remembered that a degree from a British university represents an excellent investment and increases a graduate's lifetime earning potential.
"The new system will affect students beginning degrees from September 2012. Students part way through or joining in 2011 will remain on the current funding structure."