Manchester charity thanks city for egg donations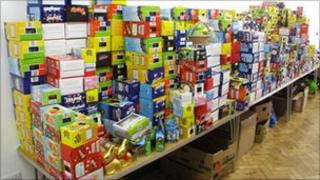 A Manchester charity has praised the generosity of the city, after receiving 6,000 Easter eggs in an annual appeal.
The Wood Street Mission, which supports local families affected by poverty, has seen a 50% increase on the number of chocolate eggs donated in 2010.
Manager Jan O'Connor said donators had "turned up in their droves with bags and bags of eggs".
"In these times of recession, it's good to know Manchester has so many hugely generous people," she said.
The organisation relies on donations to help the families it supports and Ms O'Connor said she was particularly pleased with the eggs as they had "all come from the people of Manchester and the surrounding areas".
"We don't get donations from the chocolate makers," she said.
"[They are from] churches, schools, individual donors and our corporate neighbours, who have embraced it and turned up in their droves with bags and bags of eggs."
Easter 'treat'
The charity, which has been supporting those living in poverty in Manchester and Salford since 1869, runs an Easter project alongside its usual requests for food, clothing and bedding.
Ms O'Connor said their main work was in "clothing and bedding and the real basics of life, but we offer Easter eggs as the treat".
She said that while the chocolate eggs were not "a healthy option", they were "part of responding to people's struggles - and why shouldn't the kids get the same as every other child that is going to get eggs this Easter?"
The charity will be providing the eggs as part of a seasonal food hamper to help 667 local families through the extended school holidays.
Ms O'Connor said she had "seen a huge donation of food this year, with over 10,000 items given".
"That has allowed us to give every one of the families we support a food hamper, which is something we couldn't do this time last year," she said.