Hyde man jailed for killing wife on her birthday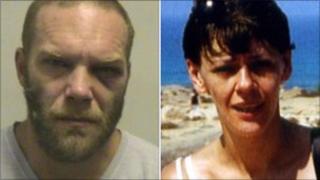 A man who killed his wife on her 44th birthday at their Greater Manchester home has been jailed.
Frank Nermerich, 42, was found guilty of the manslaughter of his wife Debbie by reason of loss of self control.
His wife celebrated her birthday on 27 October. The next night, Nermerich called police and said he had killed her in a drunken fight, police said.
Nermerich, of Market Street, Hyde, was jailed for nine years at Manchester Crown Court.
He told police: "Last night me and my wife we got into a fight. We were both totally drunk and I killed my wife."
When asked what happened, he replied: "I don't know. I can't remember. I've been sitting here all day trying to work out what to do."
'Very loving'
Police said Nermerich had told officers in an interview that he had "lost it" during the argument but could not remember anything else and his wife was dead when he woke up.
A post-mortem investigation found she had died from strangulation.
In a statement, Mrs Nermerich's family said: "We would like to pay tribute to our daughter, mother and sister.
"She was a very loving, funny and intelligent person and did not deserve to die as she did. She will be sorely missed by her family, who loved her very much.
"Her mum and dad will never get over the loss of their daughter and will have to resign themselves to the fact that she has gone."