Manchester nurse rescues lamb trapped in wheelie bin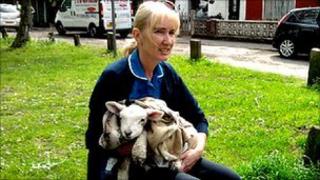 A district nurse in Manchester came across an unexpected patient when she discovered a lamb in a wheelie bin.
Gillian Powell was on her rounds on Monday afternoon when she heard a "baaa" coming from inside a bin in Levenshulme.
She summoned colleague Georgina Holmes from a nearby clinic and the pair found the month-old animal inside.
The RSPCA said the lamb is being cared for on a farm will end up as a family pet.
Ms Holmes said: "She [Ms Powell] was anxious about opening the bin because she didn't know what she'd find, so she rang me at the health centre around the corner and I went straight over to meet her.
"We couldn't believe it when we lifted the lid, the last thing we expected to see was a lamb."
Spate of thefts
They wrapped it in a blanket before ringing police and the RSPCA.
Checked by a vet, the animal was found to be uninjured and healthy, apart from a slightly ulcerated eye which it is receiving treatment for.
How long the animal was in the bin is unknown but it is suspected it was stolen from a farm following a spate of thefts in recent weeks.
The RSPCA think the thief found the lamb was too young to be of value to eat and too much trouble to look after.
RSPCA inspector Caroline Hall, said: "Obviously it's not every day a lamb is found dumped in a wheelie bin.
"As you'd imagine, the lamb's discovery caused a lot of interest among people in the area and we're very grateful to them for everything they did to help.
"Who knows what would have happened to him otherwise?"