Hospital records on Barbara Finegan inadequate: Coroner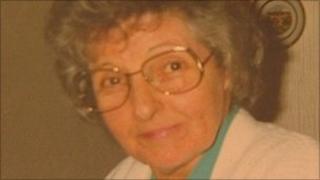 Hospital records of the last 24 hours of a woman's life were "inadequate and incomplete", a coroner has said.
Nigel Meadows recorded a nine-point narrative verdict on Barbara Finegan, 66, who died in Wythenshawe Hospital, Manchester.
The hearing marked the culmination of a seven-year battle by the family of Mrs Finegan, from Sale, Greater Manchester.
They were unhappy with her care and campaigned for an inquest, despite the fact she was cremated in 2004.
Permission for the inquest was granted by the Ministry of Justice in 2009 under section 15 of the Coroners Act 1988.
Mrs Finegan's son Steve had told the inquest his mother was being treated for chronic obstructive pulmonary disease (COPD) but began complaining of abdominal pain.
'Very bleak'
A doctor prescribed codeine but did not examine her, Mr Finegan told Manchester Coroner's Court.
His mother's condition worsened and she died a few hours later on 15 June, 2004.
A post-mortem examination was not carried out on Mrs Finegan's body.
The coroner said that in the last hours of Mrs Finegan's life "there should have been an escalation in her care and clinical management in a timely and appropriate manner".
After the inquest, Mr Finegan said: "She was very ill and the outcome was very bleak and she was probably going to die anyway, but our concern was that the quality of care provided to my mother in those final hours was very bad indeed.
'Further lessons'
The medical cause of death recorded by the coroner noted COPD, emphysema, the lack of blood being pumped round the body, internal bleeding and anti-coagulant treatment.
The University Hospital of South Manchester NHS Foundation Trust (UHSM) said it extended its "deepest condolences" to the Finegan family in a statement issued after the inquest.
Mandy Bailey, UHSM chief nurse said: "UHSM previously recognised a number of lessons to be learned from Mrs Finegan's case and provided detailed evidence to the coroner about the improvements to our systems and procedures that have been implemented since 2004.
"We have always said we would welcome the opportunity to sit down with the family and discuss together any further lessons to be learned and improvements we could make.
"We do hope they will now take us up on our invitation, which is made sincerely."