Ricky Hatton removes bogus Man United Facebook taunts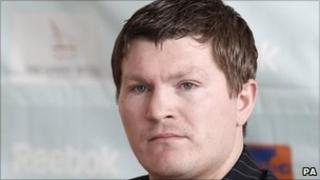 Boxer Ricky Hatton has ordered lawyers to remove bogus Facebook pages which depict him making taunts about Manchester United's Munich air crash.
Mr Hatton, 32, a former world champion and a Manchester City fan said the comments about the 1958 crash that killed eight players made him "sick".
He said the false pages using his name had been set up after City beat United in the FA Cup semi-final at Wembley.
The boxer who is a friend of Wayne Rooney said he had never used Facebook.
A statement issued on behalf of the former light welterweight world champion and his business said: "Lawyers are now taking the necessary steps to have the offending remarks removed and all unofficial Facebook pages using Ricky's and Hatton Promotions name closed down."
'Nothing but respect'
Mr Hatton said: "This rubbish that has been printed makes me feel sick to my stomach. Please, please do not believe a word of it.
"Of course, I am well known as a Manchester City supporter but any rivalry I have with Manchester United is good humoured banter.
"I would never ever make nasty comments about their players or the club's long history in private or public."
The boxer said his younger brother, Matthew was a United fan and added that he was friends with players Wayne Rooney and Rio Ferdinand.
"Wayne even carried my belt into the ring when I fought Jose Luis Castillo in Las Vegas.
"I can say 100% that I have never used Facebook in my life and that I am proud to say that I got as much support from Manchester United fans as I did Manchester City fans through my career.
"I can assure all Manchester United fans that I have nothing but respect for the club's achievements although I do look forward to the day City pip them to the Premier League title," he said.
Manchester City beat their rivals 1-0 to reach the FA Cup final against Stoke City, which will be held in May.