Postal vote fraud complaints made to Rochdale Council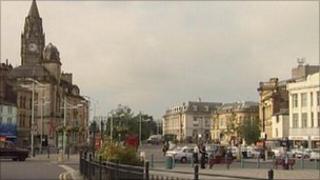 Allegations of electoral malpractice have been made by residents in some parts of Rochdale.
The council has received a number of reports of large groups of people attempting to pressure people into handing over uncompleted postal votes.
Colin Lambert, leader of the Labour-run council, said the claims came from six wards and involved allegations against all three main parties, and one other.
Police are to meet candidates and their agents on Tuesday night, he added.
'Serious offence'
"People clearly feel intimidated and threatened and have made the phone calls [to report it]," said Mr Lambert.
"We need people to be brave and we need now to bring this practice to an end."
Mr Lambert said complainants, many of them elderly, had reported up to 20 people turning up outside their home.
They are being encouraged to sign their postal vote form and hand it over, uncompleted.
He urged those affected to make statements to Greater Manchester Police so that anyone implicated could be taken to court.
"If they [the allegations] are proved to be true then they are serious enough to disrupt the whole process of democracy," Mr Lambert added.
"People fought hard for the right to vote in secret and to vote freely. Therefore any attempt to alter that or influence it is a serious offence."