Leigh cheerleaders need funding to represent the UK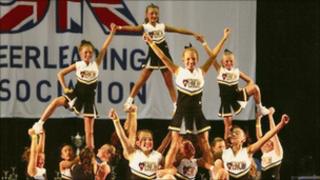 A gymnastics team from Greater Manchester that had its training gym closed down last year has been chosen to represent the UK at the European Cheerleading Championships.
The Leigh Gymnastics club should be sending 14 cheerleaders aged between eight and 12 to the competition in Slovenia in July.
But Jill Orrell, the club's coach, said: "If we don't raise £8,000 then we can't go and we will lose that opportunity."
The club is now holding a series of fundraising events, after battling against the closure of its 108-year-old gym.
In August 2010, despite 12 months of campaigning, the Marsh Gymnasium in Leigh was closed down and the club lost its bid for funding from the Heritage Lottery Fund.
'Tiny little building'
The gymnasium, which is being sold by the Wigan and Leigh College, was the first working gym in the UK and was left to the people of Leigh by the Marsh family.
Ms Orrell said: "We were then moved into a tiny little building and we trained there for six months.
"It was so disappointing, we could only fit in three mats wall-to-wall but for competitions you need nine."
A spokesperson from Wigan and Leigh College said: "We did all that we could to accommodate the club."
For the past four weeks the gymnastics club has moved its training sessions to Westleigh High School.
The young gymnasts were approached by the UKCA (UK Cheerleading Association) to represent the UK after they competed in the Club National Cheerleading Championships in March.
Ms Orrell said: "We didn't have much hope in winning because of the building we were training in."
One of the club's cheerleaders, Shannon, said: "We do gymnastics so it's quite easy for us to do cheerleading, but we are training really hard.
"It would be really devastating if we couldn't go because we have worked so hard."
Ms Orrell added: "This is a good news story and I don't want it to end up as a bad news story."