Wigan Vicar's death row to front row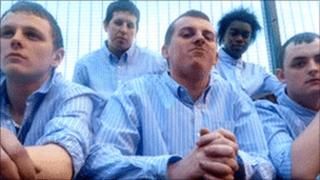 A vicar from Wigan who wrote to a prisoner on death row has had his experiences transformed into a play.
"The Wednesday Club" includes the Reverend Robert Dixon's correspondence to death row prisoner Bryon Ashley Parker and the effect that this had on the vicar's work at a young offenders' institution.
The play is be performed on Wednesday, 27 April at St Thomas' Church, Leigh, as part of the Words Together Festival in Wigan and Leigh.
It came about when the Rev Dixon mentioned to the festival organiser Gillian Forrester that he had met and written to a death row inmate.
The vicar had been a chaplain at a young offenders' institution in Dover in the 1980s and during that time visited criminals on death row in a prison in Atlanta, Georgia.
'Crimes and punishment'
The result of this trip was his meeting with 25-year-old Byron Ashley Parker who had recently been convicted for the rape and murder of an 11-year-old girl.
When the clergyman returned home, Parker, who was executed in 2001, wrote to him and said that he wanted to prevent other young people ending up in the same position as himself so he offered to write to the young offenders.
He also sent poems which the vicar used to get the young offenders to express their own, often suppressed, feelings on paper.
"The play looks at the background to some of the young offenders, their attitudes towards their crimes and punishment, how they cope in prison and their relationship with God, Robert and each other," said playwright Julie McKiernan, who wrote the play based on the file of correspondence between the death row inmate, the vicar and the UK young offenders.
"It also looks at Robert's experience of being a chaplain early on in his ministry and how his relationship with Byron surprised, alarmed and, sometimes, consoled him," she added.